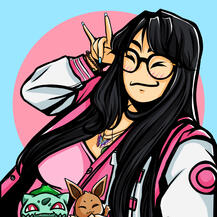 Jessie "Aki" Lo
Jessie Lo, Aki, or Akino (she/her), is a queer, 1st generation Asian-Canadian game designer, tabletop performer and all round content creator. I am currently available for hire as a panelist, player and/or GM. I'm also available for interview appearances.

Want me to hire me as an artist? Check out my commission sheet! Please direct all inquiries to [email protected].
You can find me in a number of shows and streams as a player, GM or co-producer down below.